Fanuc Memory, Fanuc BMU, A87L
Fanuc Bubble Memory Unit, Fanuc Memory Boards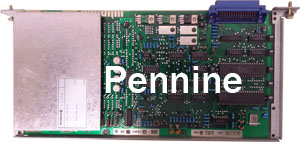 Using a thin film of magnetic material, arranged in a series of parallel tracks which bubbles can move along, Bubble Memory is a non-volatile computer memory. Each bubble (or domain) can store one bit of data and is read by moving it to the edge of the material using a conventional magnetic pickup. During operation, bubble memories work in a similar way to delay line memory systems.
More commonly described as Fanuc BMU. Found on the Fanuc 6 and 11 controls the Fanuc Memory card uses a non-volatile memory to store your data. They were manufactured by Hitachi and badged are Fanuc.
CNC Spares and Repairs have a large stock of Fanuc Bubble Memory Units and memory cards in stock also newer memory cards, sim cards and sram boards for I series controls such as 18i and 21i CNC systems including new and refurbished BMU modules. Please see below for details of CNC spare parts available for same day dispatch. All cards have been tested on the relevant Fanuc control. If your spare part isn't listed, give us a call to check availability as we have new stock arriving daily.