Fanuc Alpha Series Servo, BUY NEW, EXCHANGE, REPAIR SERVICE & TESTING
FANUC Alpha Series servo amplifier modules. We stock NEW & Service Exchange Alpha Series servo amplifier modules and offer Full repair and fault testing. The nominal outputs range from 10 A to 360 A for FANUC Alpha servo amplifiers, depending on the model.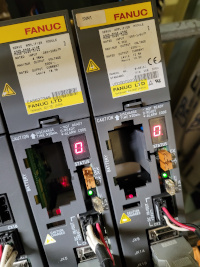 The modular design Alpha Servo Amplifier offers the advantages of compact size and efficiency. A single power supply provides DC power to multiple amplifiers, either servo or spindle. This offers the advantage of higher efficiency, higher reliability, and lower cost rather than having individual power supplies for each servo and spindle.
In addition, if one axis is decelerating at the same time that another is accelerating, the deceleration energy is supplied to the accelerating axis. The regenerative design also means that less heat is dissipated into the control panel and plant environment. The additional benefits include the absence of discharge resistors and the cost of mounting the resistors. Seven sizes of Fanuc power supplies are available, from 5.5 kW to 55 kW rated output power. In addition, GE Fanuc offers 2 non-regenerative power supplies for lower cost solutions. These have 3.0 and 7.5 kW rated output power.
The Alpha Series Servo Amplifiers provide the latest IPM technology. Amplifiers are available in 7 sizes, popular ones A06B-6096-H102, A06B-6096-H202, A06B-6096-H203 and A06B-6079-H206 with peak current limit ratings from 12 amps to 360 amps. In addition, both dual- and triple-axis amplifiers are offered for even more panel space savings.

For Fanuc alpha servo motors. click on the middle part of the Fanuc Alpha series part number below.