GE Fanuc Automation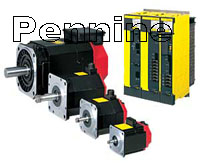 GE Fanuc Automation was jointly established 1986 in the USA. by FANUC and General Electric, they dissolve their joint venture in 2009
FANUC and GE Fanuc UK develop and manufactured state-of-the-art automation products and solutions. The product range includes both entry-level and complex CNC products with high-speed functions, digitally controlled GE Fanuc servo motors and spindle motors fanuc, and user-friendly operator interfaces. The GE Fanuc CNC system is installed in the machine in the form of a productive CNC package complete with CNC, amplifier, motors, GE Fanuc I/O modules and operator panel. Such a complete CNC concept promises that the components are coordinated to optimum effect, offering the highest performance and productivity.
GE Designed, Manufactured and supplied hardware and software across the control and automation industry. Products included Programmable Logic Controllers (PLC), Programmable Automation Controllers (PAC), motion control products Fanuc power supplies and operator interfaces.
The PLC's are widely used in the Engineering industry where they used to coordinate the activity of components in an assembly line. Fanuc PLC's can also be found in engineering places like sports arena's where they can be used to control the movement of roof's etc.