Fanuc Drives - Servo & Spindle - DC & AC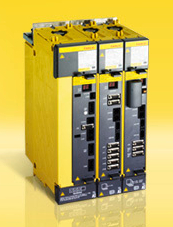 Fanuc Drives Designed to be compact, energy saving and reduce Wiring, Fanuc Drives offer high accuracy current control and high power mixed with high efficiency to help with your machining needs.
Our range of Fanuc Drives is vast it includes Fanuc DC Drives, Fanuc Alpha I Servo, Fanuc HV Drives to name a few, These verities come in both Spindle drive and Servo models.
Fanuc Alpha Drives Series modular amplifiers feature compact size, optical fiber communication capabilities or SVM and many energy-saving features. These high-performance amplifiers deliver smooth acceleration and deceleration across a broad torque range. The Alpha Series Servo Amplifiers provide the latest IPM technology. Amplifiers are available in 7 sizes, with peak current limit ratings from 12 amps to 360 amps. In addition, both dual and triple axes versions are offered for even more panel space savings. Used with Fanuc Alpha Power Supplies.

Fanuc Beta Drives incorporates a power supply with the power switching circuitry, to deliver an amplifier that is 60 percent smaller than conventional models. The built-in PWM interface uses the standard GE Fanuc servo drive communication protocol to pass current, velocity and position data digitally between the controller and the amplifier. designed to conform to international standards - European CE, North American UL, and Canadian CSA standards. Was available with Fiber Optic Interface also PWM Interface able to communicate with a wide variety of controllers via these interfaces. These include the Power Mate H, Power Mate D, Motion Mates and all of the older GE Fanuc CNC Systems and Later I Series Controls.
Below is a small selection of what we can offer to you on, Service Exchange, Outright Sale or Fanuc Drive Repair if no stock.