Sumtak Encoders | Sumtak Spindle Encoders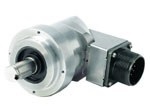 Sumtak was established in Shibuya, Tokyo in 1963, initially producing sensors and high frequency encoders before expanding their product range to include digital counters and cam switches.

During the 1970's, they began manufacturing optical rotary encoders, focussing on the NC machine tool industry and soon became recognised as a top manufacturer of this product line.
By the late 1990's Sumtak obtained ISO9001 certification along with the CE marking for specific encoders.
In April 2000, Sumtak became a 100% subsidiary of Heidenhain and later the same year acquired the PULSCALE business from Futaba Corporation.
2006 saw Sumtak obtain ISO14001 certification.
Building on their continued success, Sumtak completed a merger with HEIDENHAIN K.K in 2009.
The list below show a selection of available Sumtak Encoders stocked. If you can't find the product listed, please call us to check availability.
Sumtak Spindle Encoders, LDA Incremental Encoder, LF Incremental Encoder, LBK Thru-Bore Encoders, IPC Sumtak Optcoder, Sumtak Spindle Encoder