CNC SPARES AND REPAIRS LTD
Under new ownership, Open for business
Please call 07568431113 for enquiries huge stock of Fanuc Parts
Buy original manufacturer OEM FANUC spare parts including Servo and Spindle Drives, Circuit Boards, Encoders, Motors, Amplifiers, and Fanuc Power Supply Modules, Surplus Fanuc CNC and obsolete legacy products directly from us. We also stock non-OEM Parts such as LCD and CRT Replacement Monitors.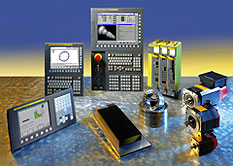 GE FANUC Parts, We offer:
Fanuc Repair Service
Fanuc PLC Modules A03B
Fanuc Alpha Spindle Drive
Fanuc Monitors CRT / LCD
Fanuc UK CNC Control Spares Series 3, 5, 6, 7, 9, 10, 11, 15, 16, 0, 18, 21i
Serving customers globally from our UK base, buying spares from us gives you options on stock including genuine new, used or refurbished parts, our Service Exchange program, or 24-hour repair service with rigorous testing. Should you have a problem & need support you can talk to our specialist Fanuc engineers.
The business is owned and staffed by qualified engineers with many years experience in module repair of NC and CNC equipment, giving a fast and effective service.
Unlike some other companies who just buy and sell products, we also Repair Fanuc & have our own testing facility. We have a wealth of experience in the CNC machine tools industry; our past engineering experience includes re-engineering, rebuilding, retrofitting Siemens, Fanuc & Heidenhain, bespoke design and building of machine tools, software, service and manufacturing NC / CNC controls to companies including AWE, Bombardier, Baker Hughes, Bryan Donkin, Brook Crompton, Rolls Royce, Bristol Aerospace, BAE Systems, General Electric, Mirrlees Blackstone, Smiths, Nissan, Caterpillar, Silcoms, Michell Bearings. David Brown, Vickers Tanks. Today we supply spares and carry out repairs on Fanuc equipment in our CNC Laboratory.