Fanuc Testing
We can offer a comprehensive Fanuc testing service, Unsure if a drive or motor is at fault? Send it to us and we will test it and offer a full report. If you are local you are welcome to drop parts into us.
Our various Fanuc test rigs offering closed-loop testing where needed, These rigs include, Fanuc 0MB, Fanuc 0MC, Fanuc 18i-MB, Fanuc 21i-MB, etc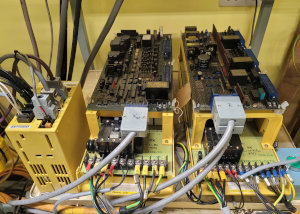 The full range of Fanuc servo and spindle drives through the older series and the many different alpha series, Control power supplies and Alpha power supplies can be tested here. Motors and Encoders can easily be tested.
We also offer a clean and test service, Numerous times we have seen drives etc covered in dirt/oil/mucky residue preventing fans from cooling the drives, We can clean and service your drives, replacing fans for new ones, All cleaned and serviced Fanuc items are given a full test
Call or email us for any help you require, We will be able to run through your problems and come up with a cost-effective and time-efficient solution to have your machine back up and running as soon as possible