GE Fanuc Servo Amplifier - 6089
GE Fanuc Servo Amplifier Unit A06B-6089-Hxxx modular design Alpha Servo Amplifier offered advantages of compact size and efficiency.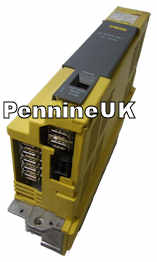 Note when replacing a 6089 Fanuc Servo Amplifier There are four channel switches above the 7-segment LED behind the terminal board cover on the front of the fanuc servo amplifier. These switches should be set as original before use of the servo amplifier.

The Early type Alpha Series Servo Amplifiers provided the latest IPM technology. GE Fanuc Amplifiers were available in seven sizes, with peak current limit ratings from 12 amps to 360 amps. In addition, both dual-axis and triple-axes amplifiers are offered for even more panel space savings. Today we offer Part Exchange service and repairs. Click on the GE Fanuc Servo Amplifier Alpha part number below.
A06B-6089-H102 A06B-6089-H103 A06B-6089-H115 A06B-6089-H130 A06B-6089-H202 A06B-6089-H203 A06B-6089-H205 A06B-6089-H207 A06B-6089-H215 A06B-6089-H301 A06B-6089-H302 A06B-6089-H303 A06B-6089-H304 A06B-6089-H321 A06B-6089-H323 A06B-6089-H324 A06B-6089-H322