Fanuc Servo Motor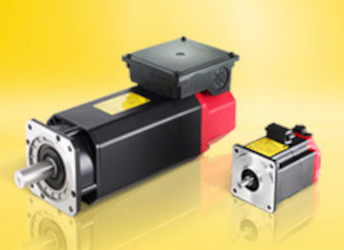 Fanuc S Series Motors
The Fanuc S Series motors are a rugged family of brushless fanuc servo motors covering a broad torque range. These motors use high-energy neodymium rare earth magnets for superior cost/performance ratios. Low-inertia designs provide high acceleration rates for improved machine cycle rates. Servo systems 6057, 6058 & 6066
Fanuc Beta Series Motor
The Beta Series servo motors are built on the superior technology of the Alpha Series servos. They incorporate several design improvements for the best performance possible with reduced cost and size. Fanuc Beta M series motors are up to 15% shorter and lighter than comparable servos. A smaller rotor means less mass and therefore better acceleration for higher machine cycle rates. New insulation on the windings and an overall sealant coating help protect the motor from the environment.
Fanuc Alpha Servo Motors
The GE Fanuc high-performance Fanuc Alpha Series AC servo motors are available in a wide range of sizes for use with GE Fanuc CNCs, Power Mates and Series 90-30 PLC-based controllers. Serial feedback, smooth operation, and excellent acceleration characteristics are the hallmarks of these motors. common Alpha drives Range 6079, 6089, 6097 & 6096. full Fanuc drive index.
We have a vast stock of Fanuc Servo Motors please contact us if you can not see the one you require