Fanuc AC Serial Spindle Amp A06B-6064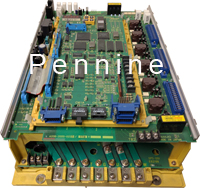 A06B-6064-HXX Fanuc AC Spindle Servo Unit Serial Interface S Series.
These Fanuc Spindle drives run Fanuc Spindle Motors from the Small Model 1S motor to the bigger sized 40S Motor
All Fanuc Spindle Drives have been tested using the correct AC Motor on our bespoke test rig.
We can offer the below drives on Service Exchange, Outright Sale, New, Refubished.
If you want a Fanuc Spindle Drive testing we have our Test and Repair service, Inform of us of the Part number, Suspected fault and any alarms that appear on the Fanuc Spindle Drive and Fanuc CNC.