Siemens Servo Drives, Simodrive and Motors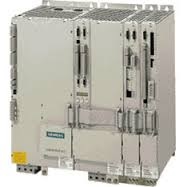 We are able to supply new, refurbished and second user Siemens Servo Drives, Simodrive and Motors, with UK stock available for next day delivery.
A selection of the Servodrives, Drive Boards and Servomotors available are listed below, including the following ranges:
Siemens AC Servo motors 1FT5 - These servomotors are permanent-magnet synchronous motors that can be used in conjunction with appropriately dimensioned transistor PWM converters for the Simodrive 610 and 611 series. Almost constant continuous torque and overload capacity can be offered over the full speed range, which can also be matched to dynamic requirements, total inertia and friction losses of the Simodrive system by appropriately rating the PWM converter. Standard version 1FT5 AC Servomotors come complete with core and winding assembly, an integrated brushless sensor system for the motor and rotor position (3 phase tacho generator and rotor position encoder) and an embedded PTC thermistor in the stator winding for monitoring motor temperature. The Siemens IFT5 AC Servomotors can be used in conjunction with 611 Series Servo Drives.
Siemens DC Servo motors 1HU - The 1HU3 and 1HU5 servo motors feature high torque and small diameters, delivering dynamic performance and high overload capacity. Developed as feed drive motors for machine tools, these servomotors are designed for direct connection to the drive spindle but can also be driven through a gearbox or via a toothed belt. The 1HU servomotor offers simple installation and connection with optional features including a built-in the resolver, pulse generator & holding the brake. Siemens 1HU Datasheet
Siemens Drive Boards - 6RA - The 6RA drive board is an antiparallel connected, circulating current-free converter which is primarily used for supplying and controlling DC motors for main spindle drives rated from 13W to 525W. Features include monitoring and protecting circuits, three phase bridge connected converter armature supply and either constant or variable field current.
Siemens Drive Boards - 6RB - Operated together with Simodrive transistorised DC choppers 6RB21, the 1HU3 and 1HU5 servomotors represent feed drives of high dynamic performance for machine tools and robots. The DC choppers are designed for four quadrant operation and three-phase connection to supply a pulse width modulated DC output voltage.
610 Series Simodrive part numbers are preceded with 6SC - The Simodrive 610 was developed for CNC machine tool and robot applications. With reliability and a user-friendly design at the heart of the product, it offers the maintenance free operation to a large extent.
611 Series Simodrive part numbers are preceded with 6SN - These Simodrives are flexible and offer a configurable converter system that can be used with a virtually unrestricted number of axes or main spindles. The Simodrive 611 features an analogue or digital closed-loop control which allows the user to achieve a dynamic response, speed settings and rotational accuracy. The 611 Series Servo drives can be used in conjunction with Siemens IFT5 AC Servomotors.